Post by sunheart on Nov 9, 2018 0:04:26 GMT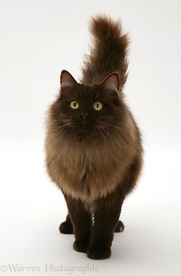 Original Image (Larger)
*Sunheart | 28 moons | Shadowclan | Earth | Male
General Info
Previous Clan(s):
N/A
*Element:
Earth
Sexuality:
Straight but Aromantic
Physical Appearance
*Brief Description:
Massive, fluffy brown tom with amber eyes.
In-depth Description:


Sunheart is an enormous beast of a tom, and at first glance, when he's barreling straight for you, he can be rather frightening. Then, of course, he starts yammering away, and any fear is soon replaced by annoyance. Were he a warrior, he would be an immovable mountain on the battlefield, able to fell opponents with but a single blow.
But of course, he is not, so he's more prone to felling anyone in sight by excitedly crashing into them.
His eyes are a bright amber, and seem to shine like the sun at almost all times.
His fur only makes his already powerful frame and build seem all the larger, the hairs puffing out in all directions and almost giving him a lion-like appearance. His fur is a rich brown, and the ruff about his neck is slightly paler than the rest of his body, with his head and legs darkening to an almost black, but still noticeably brown.
100% Voiced by Dylan from Team Starkid in the role of Albus Dumbledore in the Very Potter Musical Parodies
Personality
*Trait lists:*+
Cheerful, Accepting, Friendly, Competent
*-
Impatient, Unreliable, Forgetful, Will walk off in the middle of a conversation if something catches his conversation, no matter who it is, so rude in that regard
*:
High-energy, Very focused and NEVER gets distracted how could you possib-ooo butterfly, Child-like, but innately wise, Painfully Impulsive, Determined
Personality description:
If you think kits are
high energy
, just
wait
until you meet perhaps the most unconventional medicine cat to ever live. Sunheart is a
determined
soul, with a lack of ability to take 'no' for an answer. He's always going, always doing something, but not always the best at completing what he starts. Prone to
forgetting
what he was doing, even when he was the one who decided he wanted to do it, and
easily distracted
, he can go from a self-assigned task to chasing crickets before you can catch a single mouse.
Some of this tendency may come from the fact that most of his self-imposed tasks are
impulsively made
, he
doesn't like waiting around
before getting to them, and doesn't always think them through. As such, he can be rather
unreliable
when it comes to getting things done and you may need to send a patrol to check up on him and make sure he hasn't somehow wound up setting the forest on fire, despite not being a fire mage. Or five patrols, depends on on how long he's been gone.
But even if he has somehow set the forest on fire, he'll still be greeting those check-up patrols with a
cheery
smile and
friendly
chirrup, always happy to see you, even as the apocalypse all but rages behind him.
But don't let that fool you, Starclan chose him for a reason, and despite his
child-like
nature at times, the tom is remarkably
wise in his own way
when it comes to right and wrong, and he is most assuredly skilled at what he does. He's more than
competent
, and can bring cats back from the brink of death, if he doesn't get distracted while gathering the herbs, of course.
He's made more than a few friends with his bright and
accepting
nature, always looking to meet new cats and not caring a whit where they're from. But he's also made his fair share of enemies, with his tendency to walk off and
rudely leave in the middle of a conversation
if something catches his attention, and clearly whatever you were saying wasn't enough to hold it. (But don't take it too personal, those who've lived with him can tell you that few things actually can keep him from getting distracted.)
Likes:
- friends
- Friends
- FRIENDS!!!!!
- Frog, don't judge him
Dislikes:
- Small kits, kits on the verge of apprentices are fine but the very, very little ones just scream and scream and they can't make their own dirt properly and just keep soiling their bedding and he just can't man
- Having to wait
- Sleeping ugh why can't we just stay awake all the time there's so many cool things to do and you lose so much time by sleeping?

- Being told 'no, stop, put that down'
History
*History:
"Sunkit, what are you doing?"
"There's a baby squirrel stuck in the mud, mama, I'm trying to help her get out. I think she's stuck."
"Sunkit, just leave it. You'll get your fur matted with all that mud."
"It's okay, I can clean it out."
A few minutes later, the baby squirrel had been freed from the mud, and immediately began to scamper away from the predators. Apparently, her mother had been watching closely, because the mother squirrel suddenly scampered down, making off with her child attached to her shortly after.
Sunkit's mother regarded him curiously.
"Why didn't you just leave it?"
Amber eyes blinked up at her, confused.
"Well, how would that have helped? She would have died, stuck there. We would have been sad because we wouldn't have been able to eat her because she was stuck and too dirty, and her mommy would have been sad because she was dead. Leaving her would have made everyone sad."
And he turned to wander off, heading to go play with his brothers and sisters as his mother watched him curiously.
~~~
His fate was sealed the moment he woke up one morning and said he'd visited Starclan.
He was rather subdued for the rest of the day, odd, for him.
For others, with the peace the ancestors often brought, being calm might not have been abnormal. But Sunkit was always such a ball of energy that his mother began to worry.
But he only smiled.
"I'm okay mama, they just told me a story, and I'm thinking about it is all."
He seemed to shake himself out of it soon enough, his contemplative mood being soon replaced by his normal, energetic self, and she let it go. He was back to normal, but now moved with more confidence, with the kind of self-assuredness that only senior warriors had after seasons of duty. As if everything he thought had just been confirmed.
~~~
Sunheart, then Sunkit, was always wandering off and getting distracted. When this trait carried over into adulthood, no one was surprised, least of all his mother.
Sometimes, he would head out to gather herbs, only to come back without herbs, but well, the borders were refreshed apparently.
Sometimes, he would head out to get moss, and come back with an entire bird nest, eggs and all.
Wondering how he managed to do all of this, his mother sometimes followed his trail, keeping an eye on her rambunctious child and making sure he didn't run head first off a cliff, which with his temperament, he just might.
Sometimes, he was racing after prey, the instinct to chase overtaking him. Sometimes, it was when he had herbs in his mouth. She took great pleasure in relaying that story to her clanmates.
Sometimes, he was running around doing nothing at all. Pouncing on leaves and chasing crickets.
Sometimes, he was chatting it up with patrols that happened by, be they Shadowclan or otherwise.
Sometimes, she couldn't find him anywhere, and could only wonder at what he'd gotten up to now.
So one early morning, before the sun had risen, as she went to hunt, she found his scent leading beyond the border.
And, almost afraid to see what she would find, she followed after.
As his scent grew stronger, she began to smell other cats, other cats that did not smell anything like any of the clans.
She snuck up quietly, afraid for what would be there.
She saw her son, sitting atop a log, with a throng of cats gathered before him, listening to him talk.
They were of all ages, some with grey about their muzzles, some hardly old enough to be apprentices, and even one mother with kits still young enough to nurse.
Loners, Rogues, Kittypets.
Just... cats.
They watched him with awe, seemingly entranced by what he had to say.
So she listened, and realized that he was telling a story.
A story that seemed very old, as if a tale from so very long ago.
As if it had to have been told to him by those who had lived so very long ago, and who now walked with stars in their paws.
Seeing the enraptured state of the others, she too watched and listened to the story he spoke, shared for a purpose, and soon found herself swept away to the world he created.
It was a tale of two sisters, both great cats who were the backbone of life for their clan.
The elder sister, a mighty warrior who defended their borders at every turn, sending even foxes and badgers running back to their homes defeated while she walked with nary a scratch.
The younger sister, the most incredible hunter the clan had ever seen, her kills alone enough to keep all her clanmates bellies filled.
Both were vital to the clan's survival, but their clanmates only lavished praise upon the eldest.
The younger was only doing what was expected of a cat. It was expected for a cat to hunt, so the noble and brave deeds of the elder sister overshadowed those of her younger kin.
But the younger bore it bravely with a smile.
It was alright, she told herself, she was helping, and she was important. She was very important, and she knew that, she knew she was needed.
But as the days went on, and praise was heaped upon her sister, while nary a glance spared for her, she grew bitter.
She grew angry and resentful that no one ever acknowledged how hard she worked, how
she
was the one who kept them full and fed, who kept them from going to bed with empty bellies.
And one day, it was too much.
She snapped, and decreed that no longer would she help them, when her help was clearly unwanted.
Let them hunt for themselves.
But she was even more bitter than that, she wanted to teach them a lesson.
So she began to kill the prey in their territory as she always had, but rather than bring it to the clan, she took it beyond their borders, feeding it to the dogs.
She ate her fill, but brought none back for her clanmates, saying the dogs had begun killing it all.
Her elder sister went out to look for the dogs, but could not find them, for they were not there.
In time, as the younger sister stayed plump and full, her clanmates and elder sister began to starve and grow weak.
Their shoulders became narrow and their hips became thin.
They withered away without the younger sister's aid, and they cried desperately for her to help them.
But she did not listen, she did not think the lesson was over yet.
She needed to hold it out just a little bit longer, let the lesson really sink in, let them
really
see how important she was.
But that changed when a young apprentice came tearing into camp, screaming that the elder sister had been torn apart by dogs.
The dogs had grown brave and confident with the younger sister's feeding, and with the cats too weak to patrol the borders, they had begun to wander through their territory for real this time, looking for a bite to eat for their always hungry mouths.
The scream that came from the younger sister when she saw the remains of her kin could be heard for miles, and she really came to realize what she had done.
She had only wanted to be recognized, but she had starved her clanmates, led dogs to their borders, and killed her own sister.
She had hurt everyone, even herself, all in the name of wanting to be recognized for her contributions.
The audience, the mother included, were almost silent in a grief-stricken reverie as the tale wound to its end.
And she understood.
"Sunheart, they're not like us, they're kittypets (loners, rogues, other clan cats, prey...), why are you so nice to them?"
"Listen now, my children, for the meaning of her fall.
A heart that's left abandoned causes sadness in us all.
So love your fellow creature, show a kindness unrestrained;
and harmony will follow you for all of your days."
And she couldn't help but to see the little kit who looked up at her with confused amber eyes, saying something so similar.
Before Roleplay Relationships
Mother: N/A / Shadowclan / NPC / N/A
Father: N/A / N/A / NPC / N/A
Siblings: N/A / Clan / NPC / N/A
Mentor: Unknown / Shadowclan / Unknown / Unknown
Apprentice(s): Unknown / Shadowclan / Unknown / Unknown
Other relationships:
N/A