Post by Rune on Nov 26, 2018 18:10:06 GMT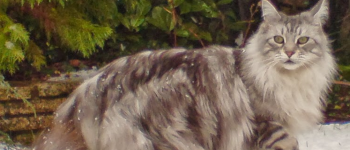 Moonleaf | 34 Moons | DarkClan | Dark | She-cat
General Info
Previous Clan(s):
Windclan
Element:
Dark
Sexuality:
A-romantic Pansexual
Physical Appearance
*Brief Description:
Long fur gray marbled cat, with golden eyes.
In-depth Description:
A lithe she-cat with a marbled gray and black coat. Her coat is long, generally well maintained and it lends well for her movements, or so she believes. With wide paws and sharp claws, and wide eyes, she's well suited as a Warrior for her clan.
Personality
*Trait lists:
*+:
Stalwart, Bright
*-:
Bleeding Heart, Self-assured
*:
Dutiful, Quiet
Personality description:


Never let it be said that Moonleaf does anything less than what she's told. Whether it's to the Clan leader, or to the other warriors, this cat is
dutiful
to a fault. She follows orders willingly and quickly, and never seems to back down from a challenging command when it's given. The femme hardly ever complains, unless she's terribly injured, and even then she will always find her own replacement before toddling off to a medicine cat, though it's difficult for her to do anything but obey. Being
quiet
as she is, Moonleaf prefers to keep her head down and just go about her day, and any notice is usually met with the same silence and studious gaze....though she will always listen to whatever needs to be said before moving on. Other cats are certainly not her strong suit at all.
There's no chance that you'll find her lacking in
reliability (stalwart)
though. She works hard, harder than most she would say, and puts her heart and soul in to everything she does. Every chore is met with strong paws and a confidence that only shows in these moments, and everything is done to full completion. Moonleaf doesn't know how to half ass anything at all. She tends to foster whatever injured thing she finds, though, which can be a bit of a problem. Being a
bleeding heart
means even the most unusual creatures deserve life in this she-cat's eyes, and she will literally take them in to her den to try to take care of any hurt creature she comes across. Likely, once she comes in to her own, this might well extend to other cats too.
The female likes to think she's
bright
, and most who know her might be inclined to agree. She picks up new tasks quickly, and follows along with instructions. Often, she will even go so far as to memorize names and faces, taking special care to recall any instructions that they might have given her at one point. She loves to learn, and learning cats' behaviors is PERFECTLY worth her time! The one thing that doesn't quite show through yet is the fact that she is a bit
self-assured
of her abilities. She's so confident, despite her own shortcomings, that she's worthy of her home in the Clan, and of her place as a Warrior. She's also positive that she'll be the best that the clan has ever seen! She is pretty amazing after all...Just...No one else needs to know yet.
Likes:


Leaves, snowfall, Hunting
Dislikes:
Large groups, Being forward, Working outside of general routine
Combat
[/b]
Unlocked Skills:
(Max of 1 as a kit, 2 for apprentices. Warriors start with 3. Leaders and Deputies must have a Mastery Skill)
Nocturnal
From Shadows
Fade
History
*History:
Born to -foot and -fang of Windclan, one of a litter of 5, and the only one born Dark.
Dealt with the outcast of her element through her apprenticeship, though she was taken on by Sleet-, who at least helped her learn to be a warrior well enough.
Ended up leaving Windclan before she got her Warrior name to join Darkclan, hoping that she would find some solace there.
Finished her training under -fang, learning how to become a warrior and use her element to the best of her ability.
Given the name Moonleaf, she took on the responsibilities of a Warrior and fell in love with the routine of it.
Has yet to take a mate, or have kits, though she's looking for both potentially at some point soon.
Before Roleplay Relationships
(Completely Optional)
Mother: -foot/ Windclan / Alive / Air
Father: -fang / Windclan / Alive / Earth
Siblings: ? / WindClan / Alive / Air

? / WindClan / Alive / Earth

? / WindClan / Alive / Air

? / WindClan / Alive / Earth
Mentor: Sleet- / WindClan / Alive / Air

-fang / DarkClan / Alive / Dark
Apprentice(s): None yet
Other relationships:
n/a