Post by 20mia08 on Mar 12, 2019 14:22:44 GMT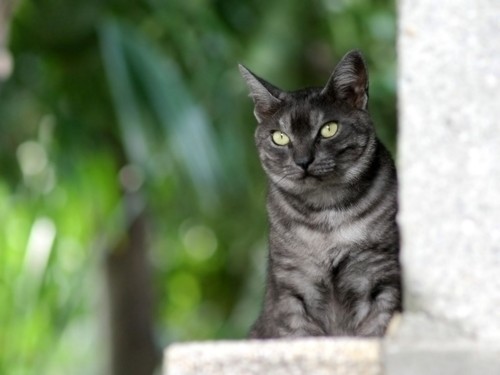 Stormstar|31 moons|WindClan|Air|Tom
General Info
Previous Clan(s):
None
*Element:
Air
Sexuality:
Gray-heterosexual
Physical Appearance
*Brief Description:
Black smoke tabby tom with pale eyes
In-depth Description:
Long-legged and born for long-distance sprinting rather than direct combat, Stormstar is as his name would make one expect: a natural born runner. Those long limbs of his are littered with strong and trained muscle, but not the typical bulk one would see on a brute. The tom is a taller cat among his clanmates, hinting at his mixed pedigree of something along the line of bengals and maine coons. This peculiar tom comes with a broad chest and shoulders that provide formidable strength to his legs. Despite his height and athletic build, however, Stormstar is light-weight. He may appear intimidating due to his size, but it wouldn't be difficult for a stronger opponent to overwhelm him. Indeed, this dark-coated tom is somewhat of an oddball for a Windclan cat, somewhat unpredictable due to his father being a pale silver tabby. Underneath that coal-black coat exists ripples of platinum silver, with his hair banding creating a mackerel tabby effect. Due to the way his short yet dense hairs lay, he appears to be a dark smoke color, festooned with mackerel tabby stripes and silver hues from his undercoat. While he's an interesting sight, Stormstar is often put at a disadvantage when it comes to hunting, therefore causing the tom to rely on his stealth and speed to chase down prey after creeping up on it.
Personality
*Trait lists:*+
Social, enthusiastic, diplomatic, adventurous, loyal, selfless, optimistic.
*-
Insecurity issues, scatter-brained, indecisive, self-critical.
*:
Idealistic, imaginative, sensitive.
Personality description:
Stormstar was a young tom who went through impressive changes after his Windclan mentor took over rearing him. The tom is
insecure
because of the treatment he received from his parents. In his younger years, he was practically uncontrollable with his
indecisive
and
scatter-brained
nature, but it seems that the tom is slowly growing out of it. While he may still struggle to concentrate from time-to-time, his change is somewhat admirable for the apprentices. With a little guidance or prodding, he can be put back on track. However, he remains
sensitive
due to his past with his family, and therefore he can be someone to talk to with caution. Bringing up his family and past isn't ideal. Regardless, Stormstar gives off an
optimistic
air, with an urge to include everyone at all times. He is
loyal
to his clan that helped him change, albeit easily distracted, and will do anything in his power to keep them safe. He is
selfless
and
social
towards his clanmates, the type who is more than happy to be a shoulder to lean on. However, while always willing to help his clanmates improve, Stormstar remains harshly
self-critical
and
idealistic
, with a feeling that he can never accomplish what he desires most. He tries his absolute hardest to perfect himself to become something that he's not, something that he believes Windclan wants him to be as their deputy. Due to this major flaw, Stormstar tends to be very
imaginative
and-- when he's not spending his time frolicking in Windclan's moor-- loves to daydream in his spare time. The tom is very
adventurous
, but he prefers to have his fun in the company of his friends. When it comes to conflict, Stormstar most certainly prefers a
diplomatic
approach, but with how much he loves his clan, he will fight if absolutely necessary.
Likes:
-Exploring and patrolling.
-Sprinting along the moors.
-Interacting and building up clanmates.
-Having relative control over a situation.
-Day dreaming.
-Finding gifts in the moors to present to his clanmates.
-Rabbit.
Dislikes:
-Unnecessary conflict.
-His parents.
-Getting wet.
-Tree-climbing.
-Loud and sudden noises.
-Talking about his past.
Combat
Unlocked Skills:
(Max of 1 as a kit, 2 for apprentices. Warriors start with 3. Leaders and Deputies must have a Mastery Skill)
Wind Runner
Howling Gale
Back Off!
Sandstorm
Mastery Skill: Asphyxiate
History
*History:
Stormstar refuses to ever speak about his history. His dark coat was seen as a sign of bad luck by his parents, resulting in their neglect and frequent attempts to ultimately end his life. His best friend was his brother, the one cat who always came to his defense. However, the horrors in Stormstar's life were short from over. His brother was consumed by his powers, unable to control them, and resulting in the explosive deaths of their parents. While relieved that the dark chapters of his life were over, his heart longs for the companionship of the brother he once had. He because deputy under Heatherstar while named Stormchaser. Following her death, he took over as the new leader.
Before Roleplay Relationships
Mother: Larch-/WindClan/Dead/Air
Father: Hail-/WindClan/ Dead/Air
Siblings: Shaded-/WindClan/Dead/Air
Mentor: Fire-/WindClan/Dead/Air
Apprentice(s): Open
Other relationships: Open
Currently do not wish to adopt out any characters, if I am to leave, I ask that they be killed.

NOTE: I am a college student and I work on top of classes, so I am not available 24/7! But I do try to get on as frequently as possible, believe me. Still trying to figure these boards out, so please bear with me. c':