Post by 20mia08 on Mar 16, 2019 14:35:37 GMT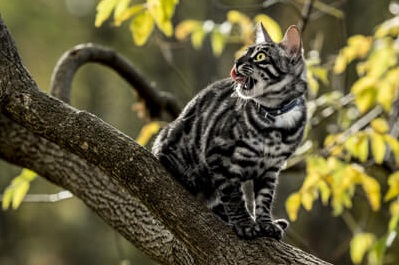 Frostwhisper | 29 | RiverClan | Dark | Tom
General Info
*Element:
Dark
Sexuality:
Heterosexual
Physical Appearance
*Brief Description:
Silver charcoal bengal tom with grass-green eyes.
In-depth Description:
Although built athletically, typical of a cat of bengal ancestry, Frostwhisper does not boast neither incredible strength nor speed. Instead, the tom is infamous for his agility and flexibility, relying on this skill to strangle his enemies and outmaneuver them. The base of his sleek and short fur is a bright platinum color, rosetted with smoky black patterns that fade into his silver fur. It is a literal representation of what he is: dark clashing with light, a dark-element tom born into a clan he loves and refuses to leave. His ears carry a few nicks in them from previous skirmishes, likely because he refuses to use his elemental abilities. Despite his ancestry, Frostwhisper is an average size for a tom, but his tail is notably long in comparison to his body.ect.
Personality
*Trait lists:
Traits must be distributed evenly and must not clash (A confident cat would not be cowardly!)
*+
Flexible, honest, objective, protective, caring.
*-
Aggressive, aloof, cynical, closed-off.
*:
Independent, quiet
Personality description:
Physically and mentally, Frostwhisper is a
flexible
cat who is willing to work things out and change if necessary. However, approaching him is very difficult. Because of the rumors and stereotypes of dark-element cats, the tom is very
aloof
and
independent
, keeping himself
closed-off
and preferring to be alone. He is not a cat you want to start conflict with, even if he's desperate to prove himself to his clan. Frostwhisper can be very
aggressive
because of his
protective
and
cynical
nature. He believes that what friends belong to him, belong to him, and you cannot have them. When you somehow manage to get to his heart, Frostwhisper is a very
caring
and
objective
tom. He's very
honest
with his clanmates, but...maybe a little too much so.
Likes:
-Silence
-Long walks
-Swimming/Fishing
-Peace
-Others agreeing with him
-Having others to take under his wing
-Having others look up to him
Dislikes:
-Being talked down to
-Blabbers
-Coming to an impasse
-Pity
-Stereotyping
Combat
Unlocked Skills:
(Max of 1 as a kit, 2 for apprentices. Warriors start with 3. Leaders and Deputies must have a Mastery Skill)
Nocturnal
From Shadows
Siphon



History


*History:Little is known about Frostwhisper's background, and he prefers to keep it that way. His parents were never disclosed and died when he was an apprentice. He has been living in RiverClan ever since, and generally keeps the truth about his elements unknown. He tries his hardest to blend into RiverClan and convince his clanmates that he's a water element.

Other relationships:
Open to a mate/crush/rival/best friend...if you can get to him.