Post by 20mia08 on Mar 19, 2019 1:53:03 GMT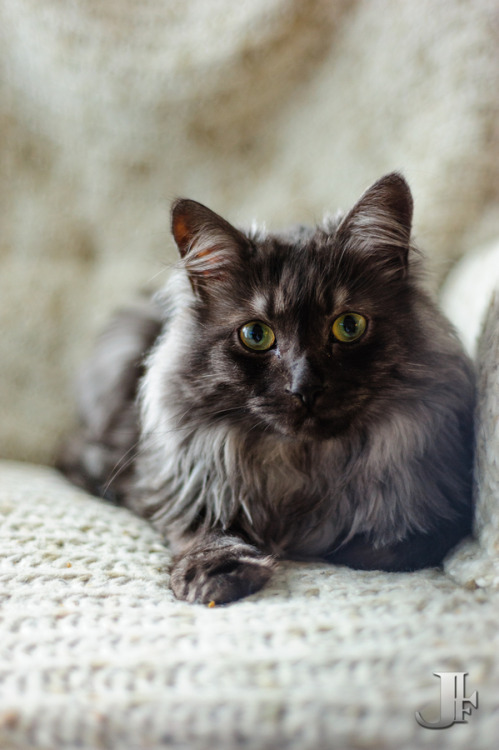 Crowfang | 75 moons | ThunderClan | Earth | Tom
General Info
*Element:
Earth
Sexuality:
Heterosexual (falls hard and easy)
Physical Appearance
Brief Description:
A black (smoke) tabby tom with yellow-green eyes.
In-depth Description:
Although he and his brother carry various similar coat features, there are a handful of very defining traits that set Crowfang apart from Lynxstar. Most notably is size- Crowfang cowers in the shadow of his towering brother, albeit a relatively average size for a tom his age. His muzzle and overall build can be noted as slimmer, but not quite on the light-weight size. Regardless, he still carries strong maine coon ancestry like his littermate(s), giving him an appearance that is along the lines of intimidating. His ears are smoky tufts, and his neck boasts a thick, lion-like smoke ruff. He may be a little frightening at first, but Crowfang is a huge softy, and somewhat of a pushover.
Personality
*Trait lists:*+
Gentle, paternal, unprejudiced, sympathizing
*-
Objective, dependent, naive
*:
Casual, moralistic, romantic
Likes:
-Getting along
-DarkClan
-Non-terrorizing-Lynxstar
-Peace talks
-Organization
-Long chats
-Mentoring
-Justice
-Fairness
-"Guidelines"
Dislikes:
-Angry Lynxstar
-Prejudiced cats
-Strict rules
-Senseless combat
-Violence
Combat
Unlocked Skills:
(NOTE: He has a few more due to his age)
Bloom
Shield
Grasping Vines
Strengthen




History


*History: Crowfang wasn't particularly intimidated by his older littermate until their apprentice years. After Lynxpaw was given a meek warrior in hopes of mellowing him out, Crowpaw was given Coyote-, a well-respected and bold warrior of the Clan. It was then that the apprentice began to develop feelings of fear towards his brother, afraid that Lynxpaw might grow jealous and take him out early.

As a warrior, Crowfang became progressive enraptured by the Clans and elements around him. Unlike his brother, who struck up a path of hatred, he became sympathetic of the misjudged clan, firmly believing that they had their reasons. He has continued to grow up as a rebel within his clan, but has sat back to become much more reserved, making his peaceful efforts in the background of chaos.



Before Roleplay Relationships




Mother: Fish-/ ThunderClan / Alive / Earth




Father: Dog-/ ThunderClan / Alive / Earth




Siblings: Mouseclaw / ThunderClan / Alive / Earth
Lynxstar / ThunderClan / Alive / Earth
Hollyfoot / ThunderClan / Alive / Earth




Mentor: Coyote- / ThunderClan / Alive / Earth




Apprentice(s): None recorded




Other relationships:




Sisters are up for adoption and regulated by Blaze.