Post by 20mia08 on Sept 20, 2019 23:15:00 GMT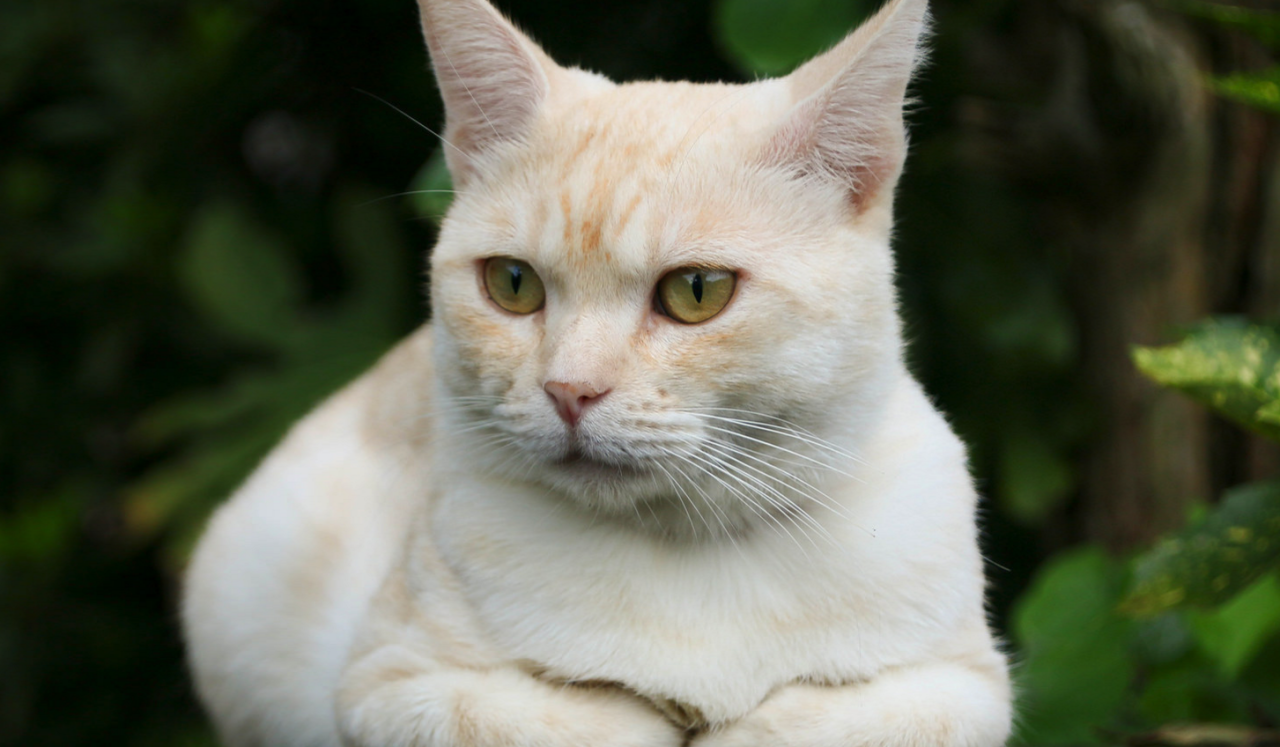 Acornpaw | 13 moons | ThunderClan | Storm | Male
General Info
Previous Clan(s):
N/A
*Element:
Storm
Sexuality:
Love him and he'll take you.
Physical Appearance
*Brief Description:
A rumpy-manx cream ticked tabby tom.
In-depth Description:
Poor Acorncloud is about as awkward as they can get, both in appearance and demeanor. He stands out like a sore thumb among all crowds of cat due to his lack of a tail, a rumpy manx, something he inherited from his late father. This trait is quite the embarrassment for the tom, so he can often be found "sitting" to attempt to hide it. Once in a while, he even tries to make himself a make-shift tail by draping a vine down his back, but clearly nobody falls for this. Outside of his unusual lack of a tail, Acorncloud comes equipped with a stout, power-house build like his ShadowClan-WindClan sire.
However, the rare genetics the tom carries is something to be proud of. He's a cream ticked tabby of unusually light proportions, with his grizzled creamsicle back fading to a off-white at his unders. His fur is remarkably short and dense like that of his unknown mother, Vixenleap, giving him a soft, fuzzy, almost cloud-like appearance. In short, if you want a snuggle, look no further than this tailless creampuff. Not only is his personality cuddly, but his fur is as well!
Personality
*Trait lists:*+
Affable, affectionate, humorous, verbally polite
*-
Awkward, nervous, highly self-conscious, unmotivated
*:
Emotional, chummy, casual
Personality description:
If you're seeking a friend who'll never judge or just a good snuggle buddy, look no further. Acorncloud's extremely
affable
nature makes him easy to talk with, and quick to befriend. So long as others aren't horribly judgmental or dry towards him, the young tom is willing to take a chance with just about anyone. In a way, he's a little desperate to make friends and fit in because he's very
self-conscious
, and doesn't feel like he fits in. This makes him nervous around new faces or rather cold cats. The ThunderClanner can be described as a
physical
character- while he's happy to talk your ear off, nothing makes him feel more secure than a good pat on the back or hug.
On the topic, the tom is extremely
affectionate
, to the point where he takes it a little too far sometimes. He doesn't seem to always be aware of the personal bubbles of his clanmates (but always his own), even if he's very
verbally polite
about almost everything. Acorncloud knows his manners and will never hesitate to express them in hopes of impressing ThunderClan. He has a
humorous
side, but more often than not, the tom finds himself hiding behind his
awkward and nervous
facade. He can be remarkably
unmotivated
when it comes to clan duties, because the
chummy
guy would prefer to lounge around all day and save himself the embarrassment.
Just don't taunt him about anything, he's honestly a big
emotional
baby.
Likes:
-Cuddles
-Long walks/talks
-Games
-Fresh mouse
-Chill cats
Dislikes:
-Jerks
-Judgement
-Cats with big, flaunty tails
-Conflict
-Too much work
Combat
Unlocked Skills:
Static



History


*History:Born to Vixenleap and Thornstep as a complete accident. The warrior wanted Acornkit and his littermate, Fogkit, gone as soon as possible, so she dumped them onto a random ThunderClan queen without any of her clanmates knowing that she was the true mother. He eventually became an apprentice, but without a storm element in ThunderClan to mentor him, he was set at a great disadvantage.

Enter Eelchaser of ShadowClan, a new ThunderClan member and the only hope of sparing Acornpaw's life from consumption. The training was difficult, with the young tom bordering consumption. In the end, he barely slips by his warrior assessment and earns his new name: Acorncloud.



Before Roleplay Relationships




Biological Mother: Vixenleap / ThunderClan / Alive / Fire




Father: Thornstep / WindClan / NPC / Air




Brother: Fogpaw / ThunderClan / Alive / Air




Adopted Mother: -fur / ThunderClan / NPC / Earth




Other relationships:




Mentor: Eelchaser / ThunderClan / Alive / Storm