Post by Rune on Jan 4, 2020 1:37:36 GMT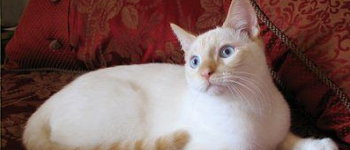 Fawnsong | 3 years | WindClan | Air | SheCat
General Info
Previous Clan(s):
N/A
*Element:
Air
Sexuality:
Pansexual
Physical Appearance
*Brief Description:
A flamepoint siamese Queen with bright blue eyes.
In-depth Description:
A tawny flamepoint female with soft cream fur, and bright ginger ears and tail, with her paws also tipped in orange. Her ears are slightly more rounded with higher cheeks and one long fang that sticks slightly out of her lips. Her coat is shorter, with her tail cropped ever so slightly from a fight in her apprenticeship.ect.
Personality
*Trait lists:*+
Eager, Curious
*-
Obsessive, Risk-taker
*:
Studious, Caretaker
Personality description:
Describe all of your character's personality traits here. Why do they act this way? In what situations do these traits show up?
If you choose to write a personality paragraph, you must include all of the listed traits and they must be underlined in bold.
Likes:Dislikes:
Combat
[/b]
Unlocked Skills:
Gust
WindRunner
Howling Gale
History
*History:
If you list full names (Whitewing, Jessie, ect.) these cats must be adopted out to avoid any conflicting names with histories and played characters. If you wish to name their deceased parents, please have them listed like Sleet- or -foot!!!
History can be in point form as well.
Before Roleplay Relationships
(Completely Optional)
Mother: -song / WindClan / Alive / Wind
Father: -claw / WindClan / Alive / Fire
Siblings: ?? / WindClan / Alive / Wind
?? / WindClan / Alive / Fire
?? / WindClan / Alive / Wind
Mentor: -fang / WindClan / Dead / Wind
Apprentice(s): N/A
Other relationships:
n/a