Post by simonwho on Feb 20, 2020 22:45:05 GMT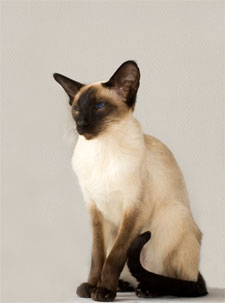 Softprance | Thirty-six [36] Moons | DarkClan | Dark | Tom [Male]
General Info
Previous Clan(s):
Thunderclan
Element:
Dark
Sexuality:
Bisexual
Physical Appearance
Brief Description:
A lanky, cream colored tom with chocolate points and blue eyes.
In-depth Description:
Softprance is a tall, thick furred tom with chocolate points, cream fur, large rounded ears, a long tail, and tons of scars that litter his face and body. His claws are abnormally long.
Personality
Trait lists:+
Courageous, Loyal
-
Cold, Aggressive
:
Quiet, Proud
Personality description:
Describe all of your character's personality traits here. Why do they act this way? In what situations do these traits show up?
Softprance will go into any battle for his clan with
Courage
and will not back down unless absolutely needed. He has an undying
loyalty
to his clan and would do anything to protect it. Despite this, he doesn't interact much with clanmates, and when he does, he is rather snappy and
cold
. He is also rather rude and
aggressive
to cats that he thinks look down on him, sometimes almost starting fights. But, he is normally alone and
quiet
, hidden in the shadows of the camp or territory itself, away from the others. Softprance is a very
proud
tom, thinking he is better than cats from other clans.
Likes:
Hunting, sleeping
Dislikes:
Swimming
Combat
Unlocked Skills:


Nocturnal
From Shadows
Copycat
N/A
N/A
N/A
Mastery Skill: N/A
History
History:
If you list full names (Whitewing, Jessie, ect.) these cats must be adopted out to avoid any conflicting names with histories and played characters. If you wish to name their deceased parents, please have them listed like Sleet- or -foot!!!
[Kit]
As a kit, Softprance was abused by his parents for being a dark element. Soon after they had abandoned him, the young tom joined the ranks of Darkclan. Bitter and angry his parents had treated him so badly, the pointed tom promised himself revenge. He rarely spoke to his adoptive parents, who struggled to raise the lanky tom. Though, he was thankful they treated him like their own.
[Apprentice]
Proud that he was an apprentice, he trained. Still wanting revenge, but not as intensely as he once had, his training was slow, and slightly delayed due his aggression towards older apprentices. When he was eight moons old, he heard news this his real parents had died. His revenge had been taken from him.
[Warrior]
Softprance had never been the nicest cat. Especially after his real parents had died. The tom grew so cold, so distant. He avoided conversation, though still showed undying loyalty to Darkclan. He acted as if he didn't know how to interact with other cats.
Before Roleplay Relationships
Mother: Unknown
Father: Unknown
Siblings: Unknown
Mentor: Unknown
Apprentice(s): Unknown
Other relationships:


Unknown