Post by Ioana003 on Feb 28, 2020 20:00:15 GMT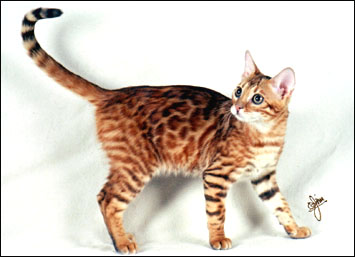 Rosebounce | 12 Moons | ShadowClan | Air | She-cat
General Info
Previous Clan(s):
-
Element:
Air
Sexuality:
-
Physical Appearance
Brief Description:
A leopard spotted red she-cat with green eyes.
In-depth Description:
With a red pelt, Rosebounce sports leopard like spots all over her back, assorted with stripes on her limbs. Her eyes are a dull green, similar to snowy leaves. Nimble and fast, her build is light, somewhat alike one of a WindClan cat's. Her ears stand erect with a cream face and belly. Her claws are as sharp as a hedgehog's spikes.
Personality
Trait lists:+
Cheerful | Kind
-
Hyperactive | Easily distracted
:
Curious
Likes:
Friends, New things
Dislikes:
Birds
Combat
Unlocked Skills:
Gust
Wind Runner
Howling Gale
Mastery Skill: -
History
History:
Rosebounce was born to Spark- and Feather-. Her very early kithood wasn't anything dramatic. Both of her parents took care of her very well. But then her mother, Feather-, was killed, and Spark- was devastated. Prior to this, he had lost another mate but not to death.
Only a couple of moons old, Rosekit couldn't quite understand what had happened, but she was glad she got to spend more time with Sunpaw, her half-sister. She never quite understand what had happened, sometimes wondering when her mother will come back. Even when she didn't come, she kept smiling and laughing, like it never happened.
Although her father had recuperated from his loss, it was already too late, as Rosekit became Rosepaw. Her sister kept looking after her, though. Becoming somewhat of a second mother, even though Rosepaw never quite saw her as that.
Her apprenticehood wasn't special. She had a mentor who taught her and a sister who always looked after Rosepaw, not caring about their half relatedness. She was always glad for that - it meant that she would always have someone to count on.
Those six moons went by in a laughing blur, and then Rosepaw found herself being Rosebounce. So far, it hasn't been long since the ceremony and things remained the same. Rosebounce is as cheerful and forgetful as ever.
Before Roleplay Relationships
(Completely Optional)
Mother: Feather- / ShadowClan / Dead / Air
Father: Spark- / ShadowClan / NPC / Fire
Siblings: Sunwing / ShadowClan / Alive / Fire
Mentor: -
Apprentice(s): -
Other relationships:
-

I do not plan to adopt out any caracters.