Post by 20mia08 on May 9, 2021 2:04:55 GMT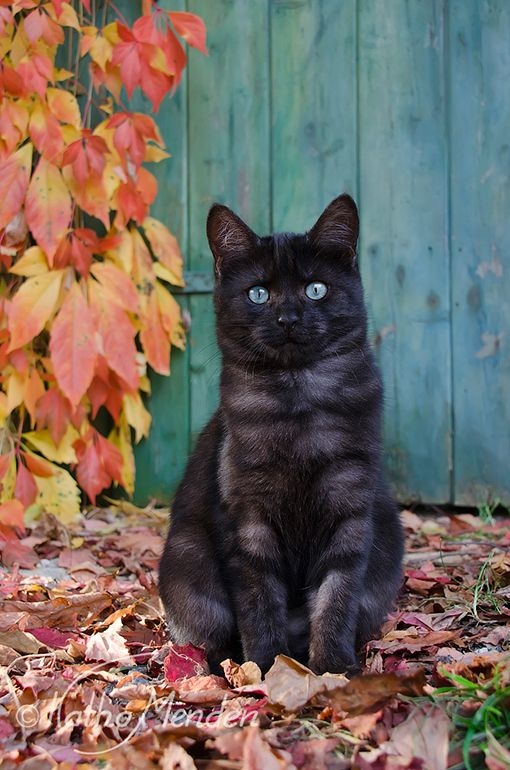 Magpiekit | Newborn | DarkClan | Air | Tom
General Info
Previous Clan(s):
N/A
Element:
Air whoops
Sexuality:
baby
Physical Appearance
Brief Description:
A blue-eyed black smoke tom with dark mackerel ghost stripes.
In-depth Description:
Magpiekit, as it would appear, isn't quite as tall as his parents. Although still above average in terms of height, the young tom carries himself on semi-long legs littered with a semi-muscular physique. He's visibly thinner than most DarkClan cats thanks to his WindClan heritage, but unfortunately does not fit in with the typical WindClanner either, given that he's stockier than most of the moor runners. His fur is not sleek, even in adulthood- Magpiekit's a fuzzy peach, although his coat is wonderfully soft to the touch. He wears a cloak of kitten-like fur that is comparable to the down on young birds: thick, soft, and sticking out at funny angles. His ears are pointed, with small tufts on their tips that he inherited from his dam. From his father, he has lovely smoky hues from his silvered undercoat, despite the tips of his fur being solid black. Similar to his parents, his coat is shorter in length, as can be foretold by the mesmerizing black ghost mackerel stripes that litter his form. Magpiekit has an unusual and rare gift- a striking set of cerulean eyes, lovingly donated by Ravenstar.
Personality
Trait lists:+
Polite, loyal, gentle, passionate
-
Awkward, anxious, cowardly, dependent
:
Proud, sensitive, boyish, moralistic
Personality description:
A mix of the traits inherited by his parents, yet his own at the same time. Magpiekit carries the same
awkward
air that frequently follows Stormstar, lacking confidence in both himself and his conversation skills. He may break off eye-contact or stumble over his words upon feeling intimidated, growing uncomfortable and struggling to dig himself out of the hole that he has suddenly created by mistake. In this way and more, he's a very
dependent
cat. He looks towards others for comfort and guidance, incapable of being by himself for long. Magpiekit fears loneliness among other things, and therefore has a tendency to follow others around like a silent shadow. The smoke cat is
anxious
and tends to be an outright
coward
in the presence of strangers and those he believes to be stronger than himself. Magpiekit will attempt to avoid these cats, and progressively grow more embarrassed and "shrink" in their presence. Sometimes, he may even hide behind his clanmates.
Still, do not doubt him. Magpiekit is
proud
of himself and his few accomplishments and has a remarkable
loyalty
streak. He's the type of character to value the little things in life, taking a
gentle
approach with most everything. What few things he has are his- maybe they aren't perfect, maybe these good things don't seem immediately "good", but he'll take them and cherish them nonetheless. Magpiekit will do his best to stick by what he loves, even if he make quake like a frozen kitten out of sheer fear of whatever he's facing. He's
passionate
in what he loves. The tom may not be the best at defending it or putting it into words when he's flustered, but he still loves what he loves. Period. And he'll always make sure you know that, or ensure that he reminds himself of that. Let it be known that Magpiekit is still a
sensitive
and flighty little creature- words hurt. He may not admit it openly out of pride, but it can still be visible in his disposition.
Magpiekit is a very
boyish
character when he's not in the presence of strangers or others who increase his sense of anxiety. He has a sort of fun and adorable youthfulness to him, sprinkled in with a strong innocent vibe that simply makes you want to hold him. He likes to be happy, and so he enjoys to hang around those that makes him feel such emotion. He has a very strong sense of
morals
and therefore treats others with a great amount of kindness, and will never hurt another without great reason. With those he's less fearful of, Magpiekit makes an approach that's very
polite
. The youngster is very well-mannered and believes in making great first impression. He definitely aims to make his momma proud.
Likes:

-Momma Ravenstar
-Flowers
-Stars
-Stories
-Insects
-Tall grass
-Closeness
Dislikes:

-Darkness
-Being alone
-Pressure
-Confrontation
-Judgement
-Fish
-Stinky smells
Combat
Unlocked Skills:
History
History:
Magpiekit was born alongside his near-twin littermate, Bumblekit, to Ravenstar and Stormstar at Five Stones in secrecy. His father named him in honor of his mother. He was split from his brother and father at birth, taken to DarkClan to live with his mother with Crowthroat as a foster father to limit suspicion. Unfortunately, it turns out that Magpiekit's afraid of the dark.
Before Roleplay Relationships
Mother: Ravenstar / DarkClan / Alive / Dark (Thorne)
Father: Stormstar / WindClan / Alive / Air
Brother: Bumblekit / WindClan / Alive / Air (Thorne)
Foster Father: Crowthroat / DarkClan / Alive / Dark (Jinx)
Many extended family members.