Post by fern on Jun 15, 2021 15:55:20 GMT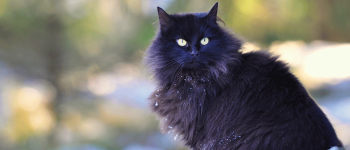 Nightstar | 48 Moons | ShadowClan | Fire | She-cat
General Info
Previous Clan(s):
N/A
Element:
Fire
Sexuality:
Heterosexual
Physical Appearance
Brief Description:
Tall black she-cat with golden eyes.
In-depth Description: Nightstar has a thick coat, long whiskers and claws. Pointed ear with tufts, muscular build. Shorter tail.

Personality
Trait lists:
+
Determined, Calm
-
Overprotective, Proud
:
Resourceful
Likes:
Hunting, Watching over the Clan, Wandering
Dislikes:
Swimming, Over-warm weather, Birds
Combat
Unlocked Skills:
Sparks
Small Fireball
Flamethrower
Flaming Claws
Smoke Bomb
Large Fireball
Mastery Skill: Hellfire

History
*History:
Born to Sharp-, the only kit alive out of her litter, mother died kitting.
Was a confident kit who often got in to trouble by exploring and trying to learn on her own.
Apprenticed to Moth-

Showed great promise as a warrior, strategic and sure of herself, with creative ways of fighting.
Took quickly to her work as a Warrior once given her name, enough to catch notice.
Has proved herself with fighting and hunting, devoted solely to her clan, so much so that she's never even had a mate.
Offered herself for the position of deputy when it came open, devoted to the idea of protecting her clan.
Ascended to Leadership upon Duskstar's demise, holding an unstable relationship with ThunderClan and continuing the partnership with DarkClan.