Post by Blaze on Sept 8, 2018 23:56:37 GMT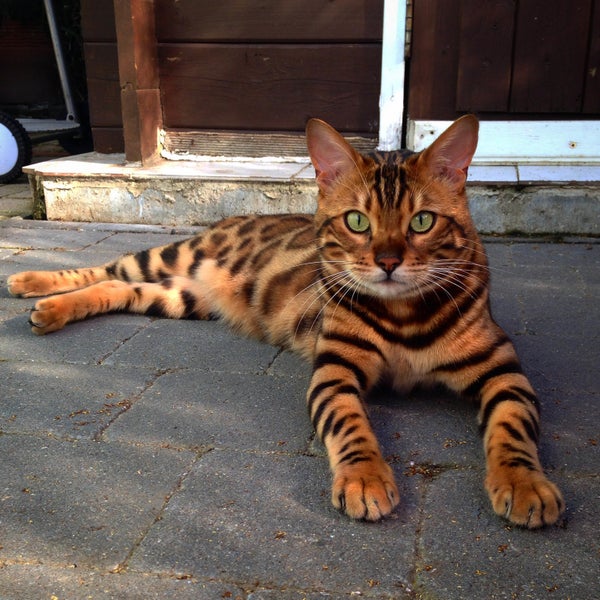 Leopardfang | 43 moons| Shadowclan | Fire | Tom
General Info
Previous Clan(s):
N/A
Element:
Fire
Sexuality:
Bisexual
Physical Appearance
Brief Description:
A reddish-brown tom with the spots of a leopard and light green eyes
Personality
Trait lists:
+
Perceptive, Strategic, Determined, Confident
-
Violent, Aggressive, Brutal, Short-Tempered
:
Aloof, Competitive, Progressive
Personality description:
Leopardfang is a very crude cat who has an attitude not too much unlike that of a misbehaving apprentice. He may seem stand-offish due to his aggressive personality. He wants to be seen as the best warrior in all five clans and will gladly rip anyone to shreds to prove it.
Likes:
Making himself seems strong, using his element for entertainment, winning fights
Dislikes:
Being wrong, Injustice, losing fights
Combat
Unlocked Skills:
Sparks
Small Fireball
Flamethrower
Large Fireball
Flaming Claws
History
History:
Leopardkit was born to Tawny- and Adder- as the oldest in his litter on greenleaf evening. Tawny- had sadly passed away not long after he and his siblings were born, leaving Adder-'s bold and brash personality to rub off on his kits. Leopardkit quickly became the leader of the group of kits and would visciously fight anyone who would dare try to take over.
Leopardpaw was apprenticed under Timber- a moon after the other kits due to a particularly nasty fight ended up with both participants in the medicine den. Timber- taught Leopardpaw to use his element wisely and efficiently as well as calming down his extremely aggressive nature to a lesser degree. Leopardpaw learned that not every battle needs to be fought with tooth and claw and has since passed down Timber-'s teachings to his own apprentice, Pebblesong.
Leopardfang has since become a valuable warrior in Shadowclan. He has become less fight prone than his kit and early apprentice days but will still engage in a shouting match with other warriors from time to time. Leopardfang aspires to one day lead his clan into becoming the strongest clan with his fiery personality and bold ambition.
Before Roleplay Relationships
Mother: Tawny- / Shadowclan / Dead / Fire
Father: Adder- / Shadowclan / Alive / Fire
Siblings: Bramblefur / Shadowclan / Alive / Fire
Flint- / Shadowclan / Alive / Fire
Sand-/ Shadowclan / Alive / Fire


Mentor: Timber- / Shadowclan / Alive / Fire
Apprentice(s):
Pebblesong / Shadowclan / Dead / Fire
Sparkpaw / ShadowClan / Alive / Fire /
Beau
Son(s):
Sootkit / ShadowClan / Alive / Fire
Emberkit / ShadowClan / Dead / Fire
Daughter(s):
Ashkit / ShadowClan / Alive / Fire
Flamekit / ShadowClan / Alive / Fire
Bramblefur is now up for adoption